JACK BUTLER: BLINDFOLD
Blindfold is a suite of 176 drawings made as a performance/coming to terms with the artist's personal experience of grieving. Presented as an unedited visual journey, the drawings are accompanied by photos of the installation, artist statement and biography in a 106 page eBook designed by Jennifer Vong. The work was first presented as an exhibition/installation at the Red Head Gallery in Toronto, August 30 to September 30, 2017. Read about the exhibition here.
BLINDFOLD is available as a free download, as a softcover book and special edition Moleskine sketchbook.
ISBN: 978-1-7771495-0-5 (PDF) – Hi Res (15.2 MB) | Lo Res (7.3 MB)
ISBN: 978-1-7771495-0-6 (SOFTCOVER) – More about this version and link to Order Form
ISBN: 978-1-7771495-0-7 (MOLESKINE) – More about this version and link to Order Form
From the Introduction:
"I move the marking pen over a surface that I cannot see. I am drawing in a synaesthetic response to haptic impulses – speed, pressure, gestures, unfolding patterns, often words, sometimes symbols. These images, visible only to the mind's eye, play across an imaginary space (a space that often feels much larger than the physical paper could possibly contain). I am clear about where marks should go in this not-visible picture."
From the Artist's Statement:
"I draw. Drawing-as-process has taken me into diverse media for the realization of my ideas – extended into sculptural modelling, computer animation, video installation and performances. I use the means and methods of visual art to produce hybrid research…"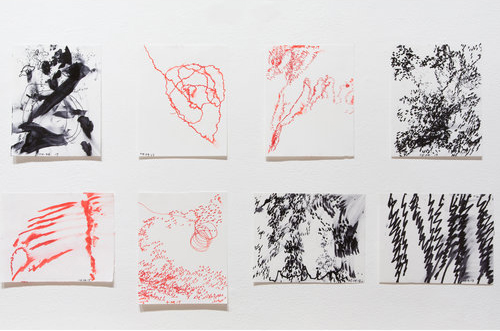 Artist's Biography
Interdisciplinary artist Jack Butler's work bridges the visual pleasure of art and the rational demands of science. He has exhibited internationally and his work is in public and private collections including the National Gallery of Canada. Butler has thirty years experience as a medical model builder and published researcher in human development. In addition to his hybrid art/medicine research practice, Butler is a founding member of the Sanavik Cooperative, Baker Lake, Nunavut and has been working collaboratively with Inuit artists since 1969. He has taught at Carnegie Mellon University, Banff Centre for the Arts, the Department of Philosophy at the University of Western Ontario and most recently, as adjunct faculty in the Healthcare Technology and Place (HCTP) program at the University of Toronto.
Jack Butler website
Jack Butler on CCCA.ca
Jack Butler on Wikipedia
BLINDFOLD is the inaugural publication of Blindfold Press.